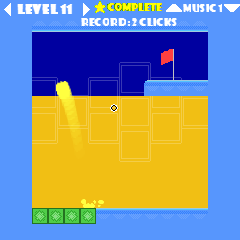 A fun, simple mouse-controlled platformer with 50 short, gimmicky levels. Also featuring a level editor and tons of unlockables to keep you playing.

Hey, everyone! You probably thought Crazy Over Goo was totally finished and done with... and so did I! But thanks to some help from the esteemed UnknownGamer, Crazy Over Goo now has online scores! I also fixed some bugs and included a brand new secret for getting your click total below 650... I don't want to give it away, but it's pretty damn cool.

Your old save file will still work, so be sure to hold on to it before you update if you were using Instantplay-type browser players.

I'd like to release an extra level pack of user-created levels, but so far there haven't been many submitted! Use this new version as a chance, perhaps, to reacquaint yourself with this game and maybe put together a level. You can upload it and post the link, or email it to banovg at gmail dot com.
InformationTitle:
Crazy Over Goo
File Size:
3.8 MB
GM Version:
GM7
Changes Screen Resolution:
No
Mirror 1:
GameJolt
http://gamejolt.com/freeware/games/platformer/crazy-over-goo/171/
Download Links:
Mirror Two:
YoYoGames
http://www.yoyogames.com/games/show/80900
Mirror Three:
Host-A
http://host-a.net/banov/CrazyOverGoo.zip
HIGH QUALITY SOUNDTRACK:
(Save in the same directory as the game exe)
http://host-a.net/banov/COG_Soundtrack.zip
Screenshots:
(Click to enlarge)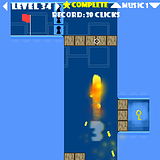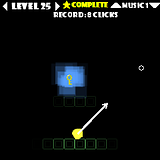 Credits:
-Banov, as in, me, for ALL sprites, animations, programming, etc
-Prophecy for composing the soundtrack