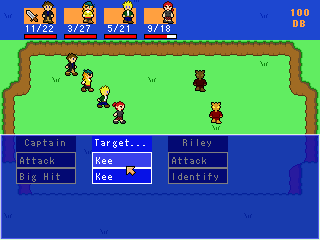 Dubloon
A point-n-click pirate RPG adventure game in the making. Right now this is just a simple engine demo.
File Size:
2.6 MB
GM Version:
GM7
Changes Screen Resolution:
No
Download Links:
Mirror One:
WillHostForFood
http://willhostforfood.com/access.php?fileid=66209
Screenshots:
(Click to enlarge)
Credits:
-Banov for just about everything
-Prophecy for composing the soundtrack
------------
Controls and other notes...
-Use WASD or the arrow keys to move
-SPACE to spawn enemies
-The mouse controls all the interface. Drag and drop item onto the little HUD spots to use/equip/unequip items.
-If you right click on a HUD spot to open up attack info, you can drag and drop to alter each character's moveset.
-Battle works the same. Click to pick your attack and target; right click to go back.
-Sound effects are all TEMP, taken from Earthbound
Ideas for the future:
-SPEC is going to be a special inventory with items you drag and drop onto the screen to use; you could use a key to unlock a door, bombs to clear an obstacle, etc.
-The mouse will also be used to take items from merchant tables and purchase them, or to give items to NPCs.
-You'll be able to name each character, and for the main character ("Captain") you'll be able to allot his stats at the game's start.
-Obviously there's going to be many more attacks with different elements (Fire, Ice Electric)...
--------
I'd like to know if players are interested in seeing this as a full game with a narrative, quest structure, etc. Does this kind of gameplay appeal to you?