Dubloon
A point-n-click pirate RPG adventure game in the making. There are dungeons, bosses, sidequests and secrets in a huge explorable world.

This is the final demo; the next time I release an update, it will be the finished game! Please play, enjoy, and share your thoughts!
InformationTitle:
Dubloon
File Size:
19.6 MB (9 MB version also available; see below)
Download Links:
Mirror 1:
GameJolt
http://gamejolt.com/freeware/games/rpg/dubloon/254/
Mirror 2:
YoYoGames
http://www.yoyogames.com/games/show/83854
LowFi Version:
Recommended for users with a slow connection. This version has low quality music, but is only a 9 MB download.
LoFi Download
Walkthrough:
If you're really stuck and don't know what to do or can't solve a puzzle, you can consult this.
Walkthrough (For Landlubbers)
YouTube Trailer:Screenshots:
(Click to enlarge)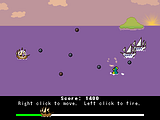 Credits:
-Game by Banov
-Music by Prophecy
Comments and constructive feedback are greatly appreciated!