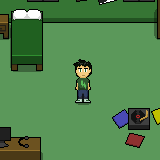 (Click to enlarge)
A role-playing game set in a modern American suburban town.
Ghosts and evil spirits begin to appear all over town, corresponding with the impending reincarnation of a transdimensional demon. A group of teens, armed with weapons found in their homes and assisted by spirits of their ancestors or former residents of their homes, set out to prevent the rise of this evil being.
The engine is based on Dubloon with a number of changes and upgrades. I'm setting out to make this story my best and most exciting yet.
This is going to be my first commercial PC game; I'm currently planning to charge $3 for the final product.
I still need to research what my options are for distribution and such.
My goal is to have the game finished by September 2011. Start saving up! :)