Whelp! Today's my 19th birthday. All in all it's a pretty godawful boring year. I'm not quite in my second decade, and I can't do anything I couldn't do when I was 18, legally speaking. I've essentially resigned myself to having a boring year to reflect a boring age. Or who knows, maybe it'll be awesome!
One thing that's looking to make this year a good one is Phantasmaburbia! Let's talk about that for a bit, shall we? (It's really interesting if you juxtapose this birthday post with the one I did
last year
and even
the year before that
, when I was finishing and starting work on Dubloon, respectively.) I've been working on it as diligently as possible, but I must say, school has been a much larger timesink than it's been in the last couple years (which is why I'm writing this post a few days in advance just to ensure it is delivered on time!). I guess that's college! I'll get out of classes in June, which will definitely mean a rapid increase of production rate.
But there's cool stuff to report! We've introduced a new member to the "team," and he goes by
Mack151, or sometimes, Rockythechao
. He did a really excellent Let's Play series on Dubloon (the original!) and Escape from the Underworld, and he's volunteered to offer his beautiful art services to the game in the form of new character portraits! Look at these beauties (click on them!):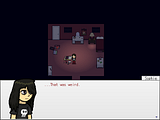 So that's the big news of the day! I look forward to sharing more as this little project continues...
PS Have you seen
The Room
? It's my current obsession. You can find it online for free with the right Google searches, just saying.