I often see people claim that
Super Mario Galaxy
is a better Mario game than
Super Mario 64
, if not the greatest Mario game to date. I completely disagree, and I've always wanted a chance to talk about why in full detail. So here's my two cents on why Mario's first 3D platforming outing is still far better than his most recent...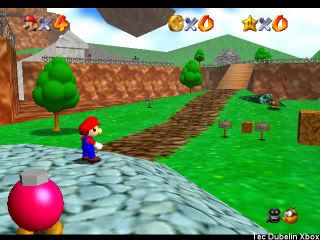 Super Mario 64
Presentation
Graphics-wise, both games are/were pushing the limits of the system and treading new ground in their respective times. I don't think I need to spend more time on that particular matter.
But when considered as a whole, Mario Galaxy wasn't as universally appealing. With its cutesy bunny rabbits, cheesy talk about stars and frolicking in fields of flowers, Galaxy is decidedly
girly
and childish (an opinion only further made popular with the infamous U R MR GAY discovery). I felt outright embarrassed to be playing it at certain points. Mario 64 certainly was no GTA, but it didn't border on this level of girliness; as a young child and as a young adult today I still have fun playing it, and not once does it feel too "kiddy."
Mario Galaxy also got a lot of praise for its complex, epic orchestrations. I'm not going to argue with that, the music was big, loud and adventurous, and it fit. But the N64 cartridge they stuffed Mario 64 could never hoped to achieve that level of orchestration anyway. What Mario 64 gave us were a lot of really catchy, memorable tunes, songs I still remember today very clearly. What about Mario Galaxy? How many tunes do you remember from that? In all its powerful orchestration and big sound, it lost something. I'm not saying a game has to have memorable music to be good, but Mario 64
did
have some classic videogame melodies and Galaxy didn't.

Super Mario Galaxy
Gameplay:
Mario Galaxy brought some new cards to the table in the gameplay department, that I won't deny. It's high point--for me--were the really great new powerups. Ice Mario? Boo Mario? Yes please.
And of course it got a lot of talk going about its crazy physics engine, right? Mario could walk around the surface of an entire sphere! But as cool as that was, it created some problems, too. The game's gravity rules weren't universal: sometimes you could walk around the bottom of a a planet, sometimes you couldn't, and there was never any indication of whether or not you could. There were a few good handful of times when I died because I assumed I could walk off the edge to the underside of a platform.
Mario 64's level design was more fun, too. Yes, you read correctly. Mario 64's open, explorable levels were fun and exciting, and they totally captured our wonder, totally helped us understand what a 3D game could be. Mario Galaxy's levels are almost all linear; the only path is to go from planet A, find the launch star, get to planet B, etc. And even when it did offer some large explorable areas, they never felt as open and exciting as in Mario 64. Really my biggest gripe in Mario Galaxy was that they
reused level maps.
I repeat:
They took one level, copy and pasted it, and called it a new one with a little recoloring.
Don't believe me? Look:
Wow! What a cool level!
Hey, wait, isn't this a little familiar?
I don't care if they had some differences here and there, if the missions were different, whatever. This was a HUGE game, destined to be a trend-setter for all Wii games to come. It was Mario's newest platforming adventure in
years
. How is it that nobody, at any level of this game development, saw level repetition and thought "This is great"? The game already has a few dozen maps, I'd rather have one less than the same one again.
Is Mario Galaxy a good game? Yes, it is. It was fun, certainly among the best of the Wii's offerings. But it isn't at the same level as Super Mario 64, and I can't agree with anyone who thinks so.