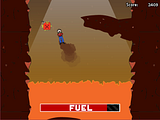 Yep, I made an HTML 5 game.
This was for a class assignment. We didn't have to make it HTML5, and it didn't have to be nearly this polished, but, I had the capability, so I did it. There were 4 other people in involved in the project; 3 pals who did
art
, and 1
pal
who made the music and the sfx (using an ACTUAL Gameboy, in his hands, wow!) (I will work on finding more links to the other pals)
There are 3 stages that loop continuously until you lose. You can rack up lots of points on the third one.
This game is nothing too special. There are a couple issues that will never be fixed, because at the end of the day it's "just" a silly class assignment. I think we can all agree
I've got more important things to do
.