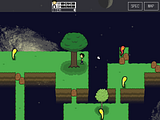 Check out the new Phantasmaburbia website at http://phantasmaburbia.com!
With the new site, I'm ready to say that I'm aiming to release the game on
October 31, 2011
with a starting price of
$9.99
. Those of you who have been paying a lot of attention to my stance on release date and price may find that this is a little later and a little more expensive than I've sometimes lead people to believe up until now. This isn't me trying to stab anyone in the back, rather, it's a result of the game's scope expanding far beyond what my initial vision was for it. My
most recent post concerning the dungeons
provided a taste of that.
In addition to the new site publication, I've gone and updated the free demo available at GameJolt and YoYoGames. As is usual, there's no new content available but there are plenty of changes to bring it closer to what the final product might be. Changes you might notice include:
Numerous speed optimizations & bugfixes
Updated victory music
Updated tiles, as seen in the above screenshot
You might be wondering what happened to the yellow, desert-like landscape that used to be characteristic of the early game Spirit Tunnel. I've moved it to a later part of the game, into a dungeon that fits it much butter: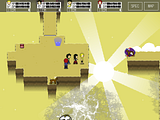 ---
PS: I can't say when for sure, but check back here a lot if you want to catch the impending release of Pollushot to iTouch and Android app stores!