Finally, it becomes publicly available! CRAZY OVER GOO FLASH VERSION.
PLAY IT HERE (Newgrounds!)
PLAY IT HERE (Steakface!)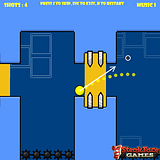 (Click)
It's got 63 levels now, a heavily expanded level editor, more unlockables (costumes, custom colors), completely redone graphics, time attack mode... I don't think I can remember everything we added. Play it!
I redid all of the graphics, reworked levels, made new ones, and other misc. design minutia. The real gold medal for this one goes to Kristian Macanga, who reprogrammed it from scratch and did the sales and worked to add all the crazy cool new features.
Follow him on Twitter!
And for other Game Maker users, hit him up if you're interested in getting your game(s) ported.
---
PS: Phantasmaburbia is going really well. Once I catch a break from schoolwork (I'm missing class now just to write this post!) and can work in a few last touches, I'll be putting out a free demo. Keep your eyes peeled!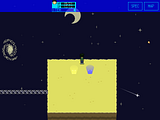 (Click)
PPS: Pollushot is tentatively scheduled to be submitted to the iApp store on
April 29
. Pretty soon! This could be pushed back though. But here's something even cooler: it's
coming to the Android app store as well
!
Get pumped.